Increasingly more sustainable heat
Innovative technological solutions for a more comfortable indoor climate, the simplest possible product management and a drastically reduced impact on the environment that we aim at cancelling altogether: all this comes from our research and development activities. We put every effort into achieving these goals. We always have.
---
O2Ring: a totally new device, the first ever in the world designed to eliminate particulate production once and for all
The outcome of five years' work by our Research and Development department together with the University of Trieste to produce a combustion gas purifying system which, combined with other technologies engineered by us, turns wood and pellet burning into an extremely environmentally-friendly process which is even ideal for geographic areas where biomass heating is limited by law.
The O2Ring device is composed of active elements that, on entering into contact with combustion gases, start a controlled chemical reaction which, on average, neutralises up to 80% particulates and CO.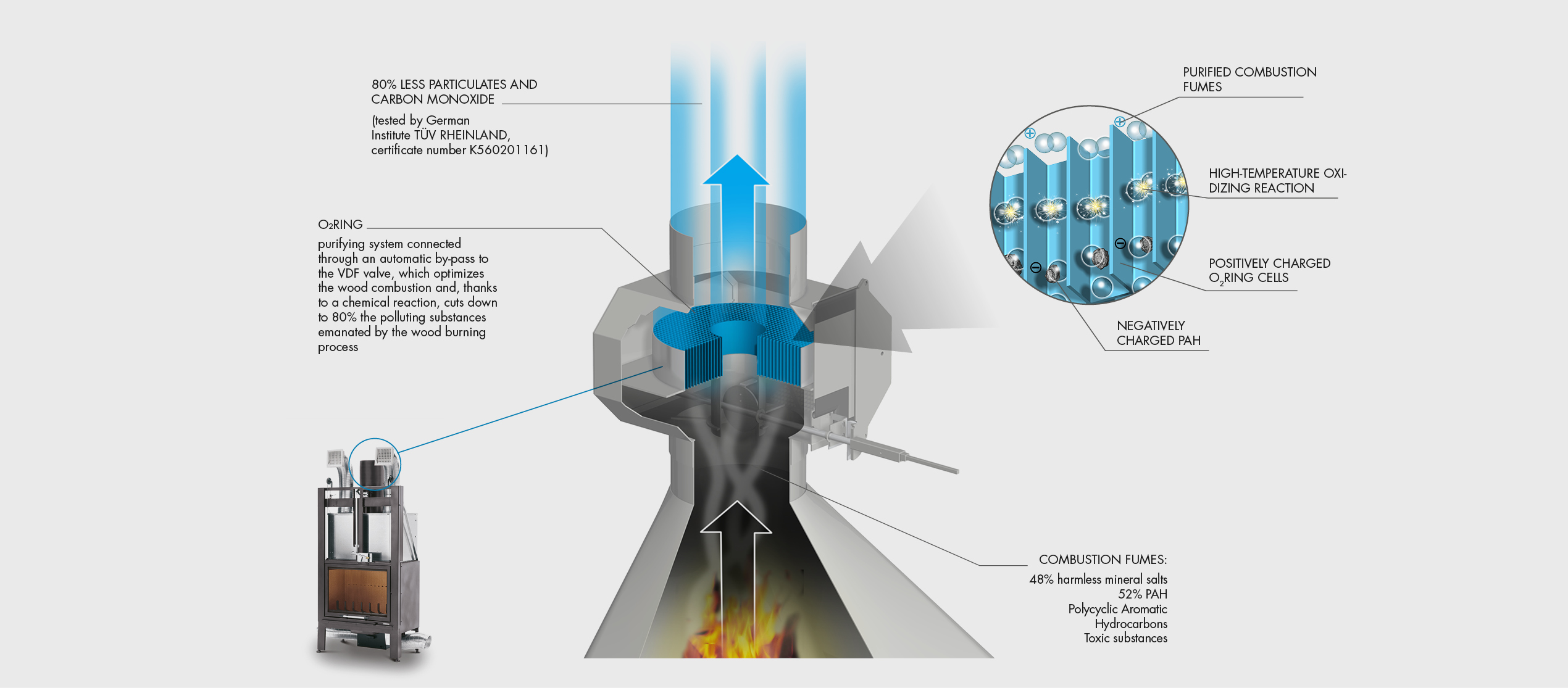 ---
Dual combustion: the best way to use the full heating value of wood.
Thanks to this technology applied to our fireplaces and stoves, primary combustion gases rich in carbon monoxide are re-ignited by adding pre-heated oxygen. Secondary combustion is produced, ensuring a very high heat output while drastically reducing polluting emissions and energy consumptions.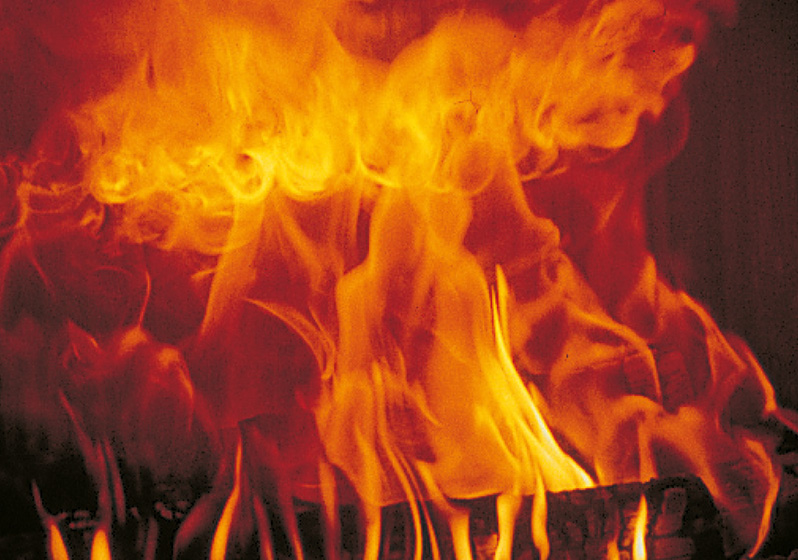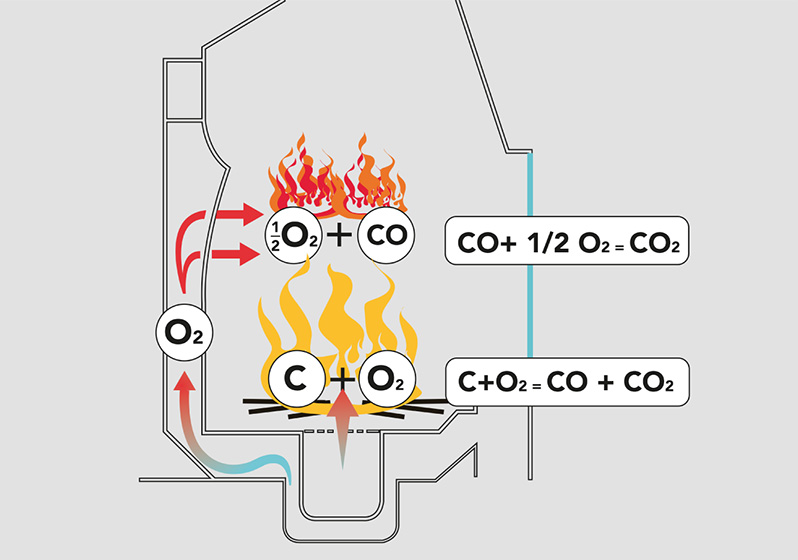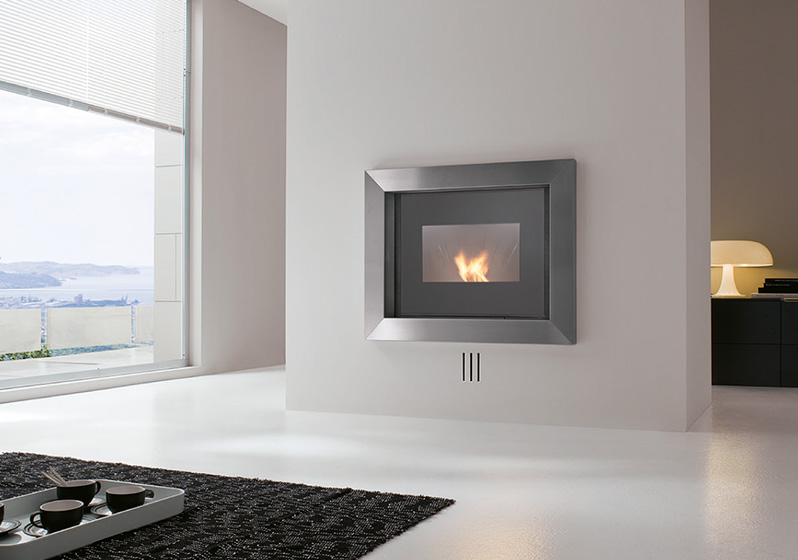 ---
Sealed technology: optimal combustion paired with very high heat outputs result in less harmful emissions and greater savings
Sealed technology is applied to some of our Ecofire pellet stove models. The structure of these stoves is fully sealed and the Primary Air Circuit, a special combustion and glass wash air supply, takes all the air it needs directly from outdoors so that none of the indoor oxygen is used up.
The same coaxial tube can be used to let flue gases out and fresh air in. The incoming air is heated when it comes into contact with the flue gas outlet tube and this further improves combustion. Moreover, there are no traditional ventilation grids and this contributes to keeping the indoor temperature constant, increasing savings.

Our sealed technology is also complemented and guaranteed by: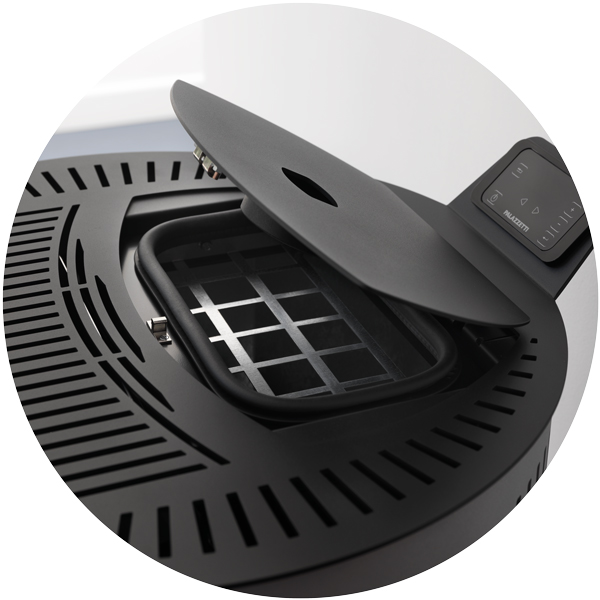 A sealed pellet hopper hatch
The seal is guaranteed by a silicone gasket and a special double ball catch that keeps the hatch shut. Just close it gently and it will stay put.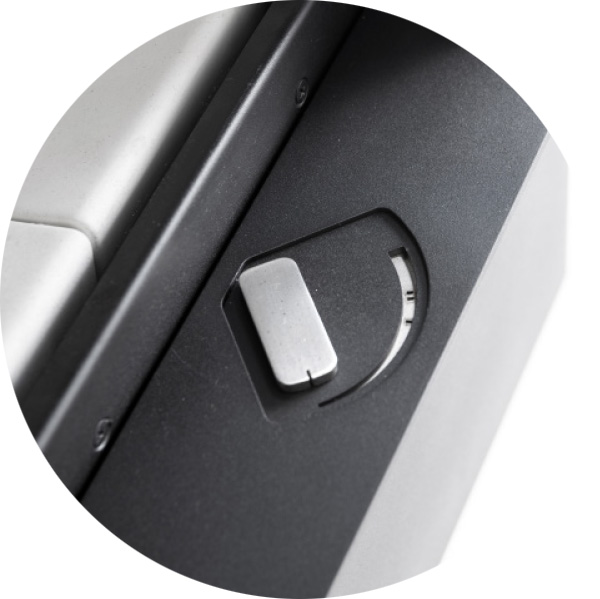 Safety micro-switches
They notice when the door or the pellet hopper is open, adjust the fuel supply accordingly and inform the user by sounding an alarm.
Sealed technology improves performances and overall comfort, making these stoves suitable for passive or low energy consumption homes.
---
Upper Smoke Technology: consists in the flue gas outlet being located at the top-centre of the stove.
More flexible installation and space savings: the stove can be installed right up against the wall (making sure it is at a safe distance from combustible materials at all times), meaning that it takes up less space.
Savings on flue costs: the flue is fitted further up the stove so that a shorter one is required. Moreover, the tee coupling with inspection cap is already integrated in the stove so you save on that as well.
Greater efficiency: stoves benefiting from sealed technology exploit the top flue gas outlet to let combustion air in as well, utilising a single coaxial duct. This results in the incoming air being pre-heated on its way to the combustion chamber by means of the exchange of heat with the outgoing flue gasses, so that it isn't cold when it arrives.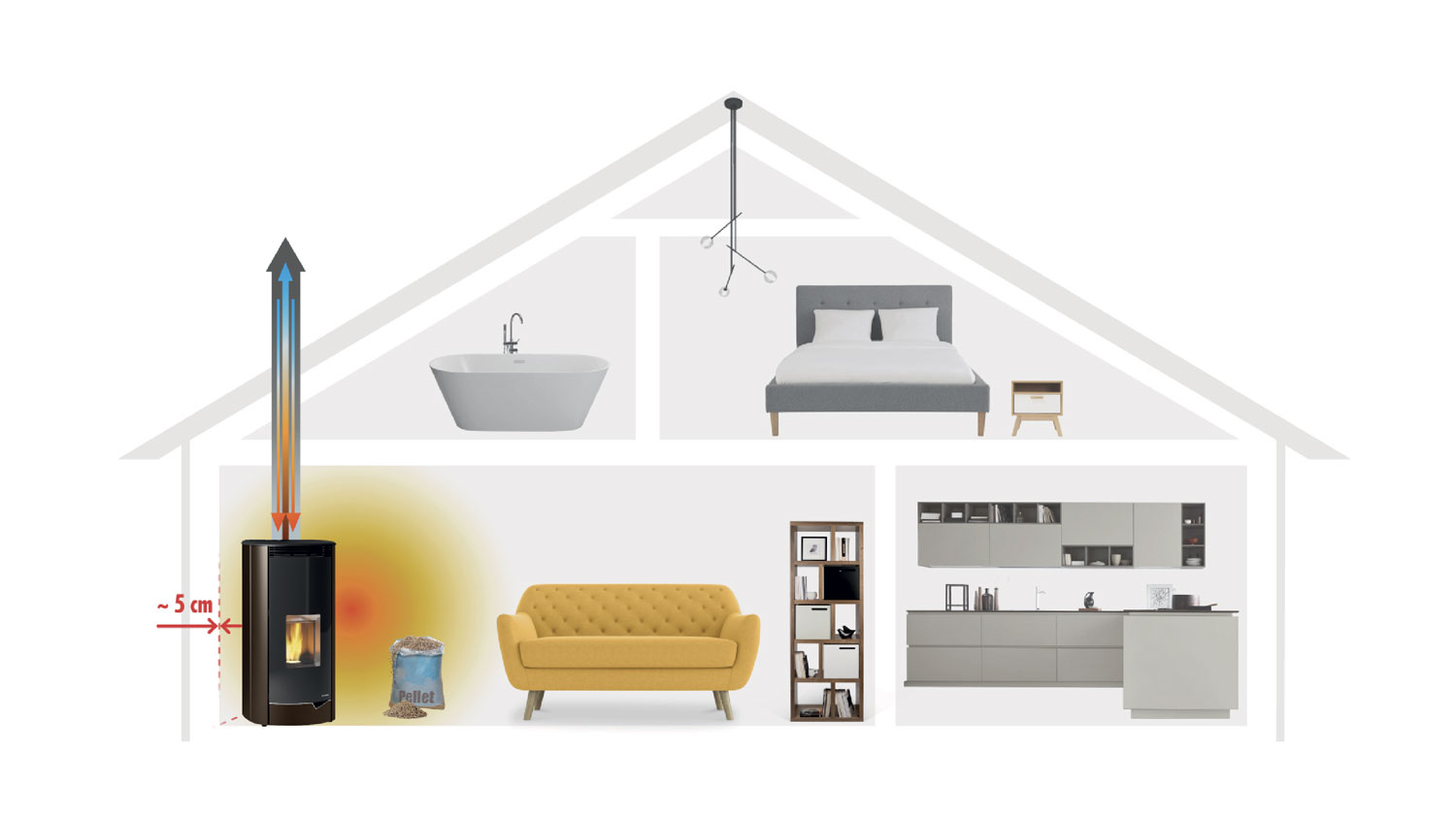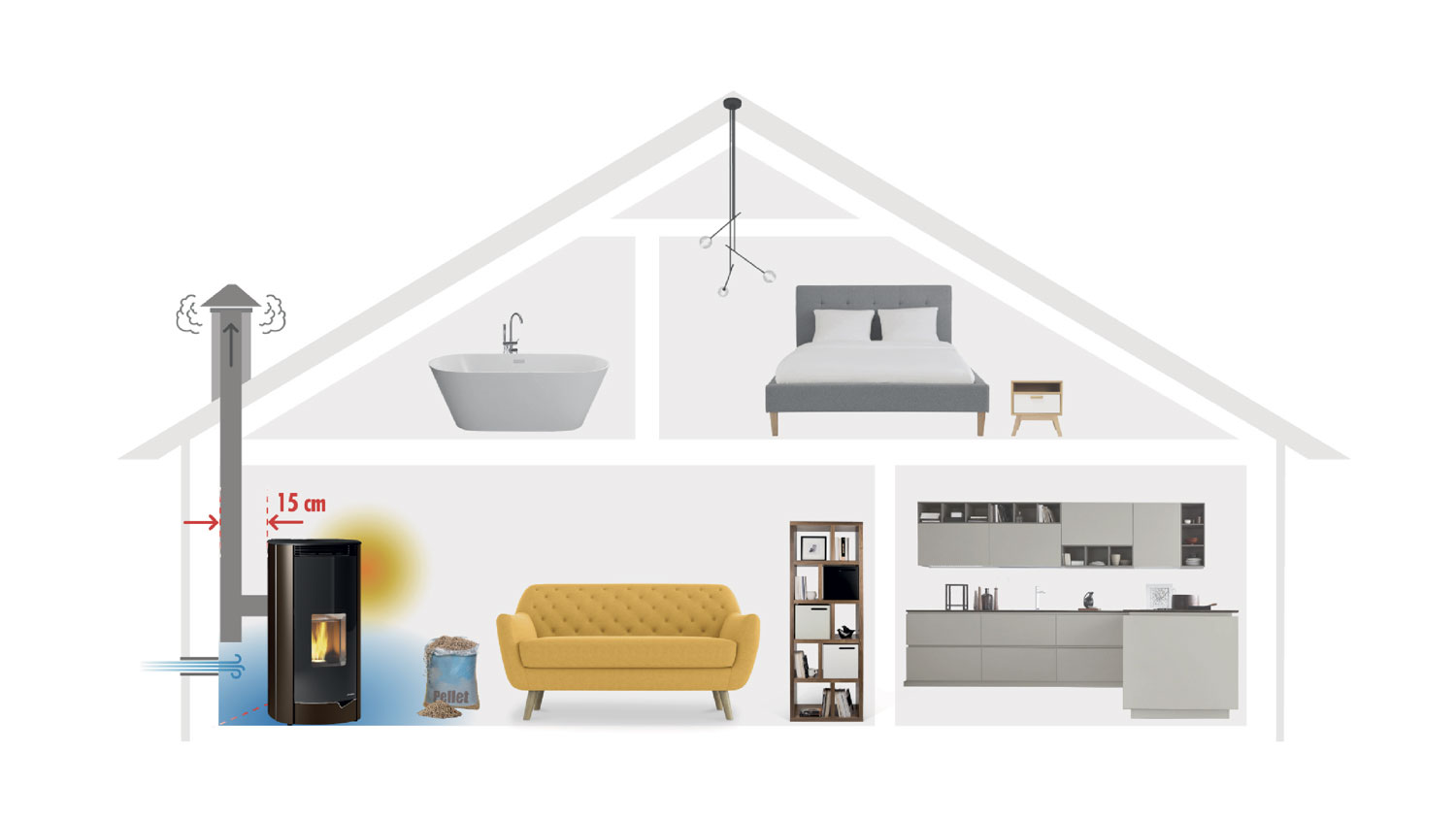 ---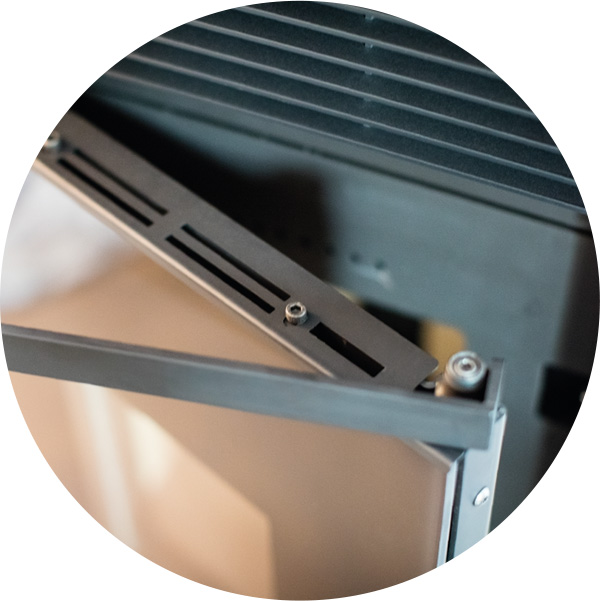 Patented Balanced Door system: perfect, durable door closing.
Special dampers improve the door's seal and dynamically compensate any dilation of materials due to intense use, ensuring an excellent seal at all times.
---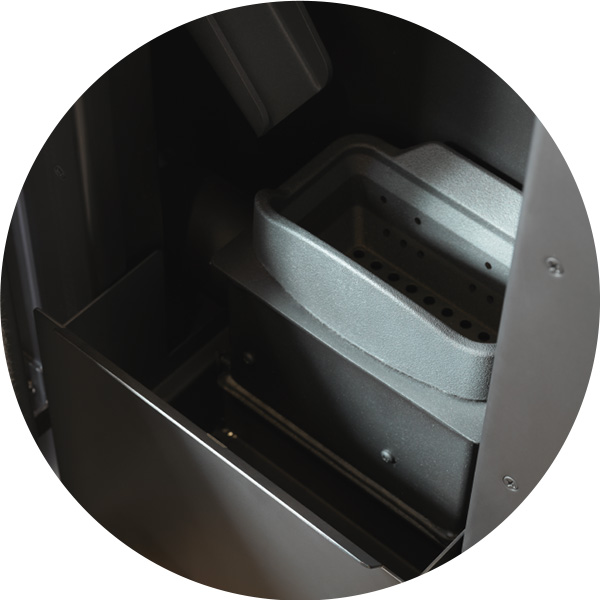 Speedy Clean: easier cleaning, more affordable maintenance.
Our technologically developed firebox makes routine cleaning as easy as can be: there is no need to remove any of the parts or use specific tools.
---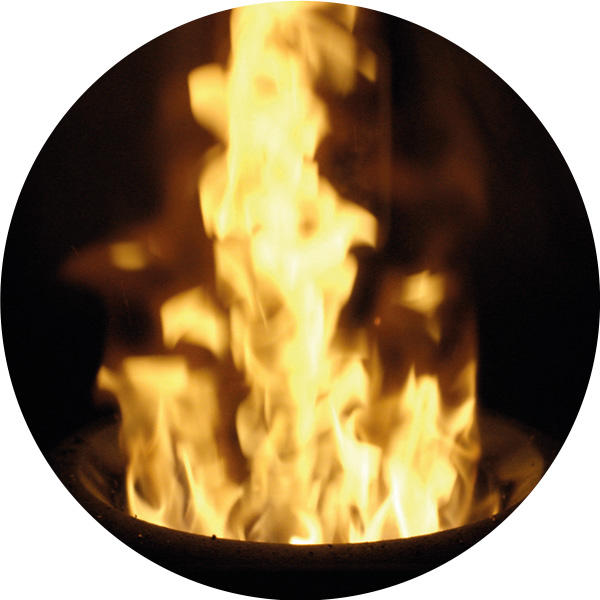 Quick start system: the stove turns on in an instant.
This system uses a ceramic resistor which makes pellet ignition faster and consumes less electricity compared to traditional, metal resistors. It also lasts longer because it is more rust-proof and offers greater resistance to natural and chemical corrosion.
---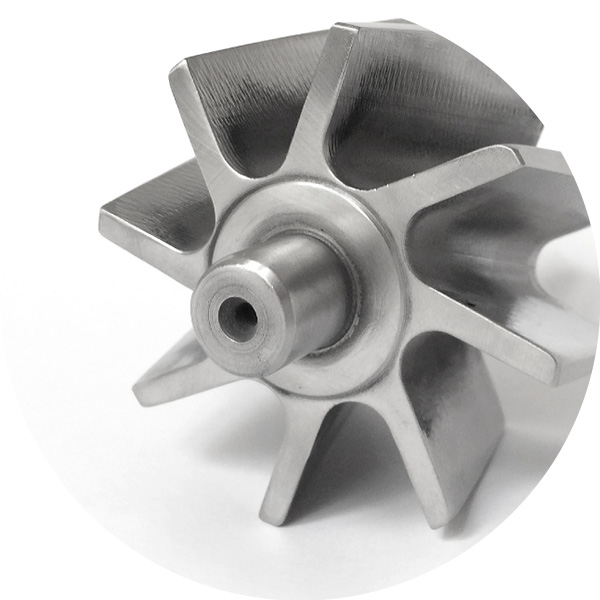 "Star" valve: perfect fuel dosage for unmatched combustion optimisation.
An exclusive pellet feed system that very accurately feeds the right quantity of fuel to the combustion chamber without leaving residues thanks to its radial design and to a sharp element. The combustion chamber is physically separated from the pellet hopper to prevent unwanted air from entering the chamber, thus ensuring better combustion.
---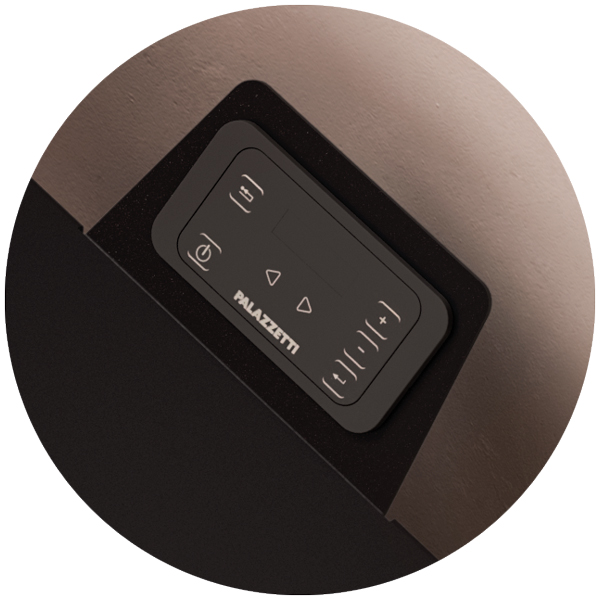 Differential pressure sensor: perfect combustion, always.
Exclusive combustion air flow metering system. Constantly informs the electronic control unit on how much air is entering the combustion chamber so that it can quickly adapt the stove's operating parameters accordingly.
---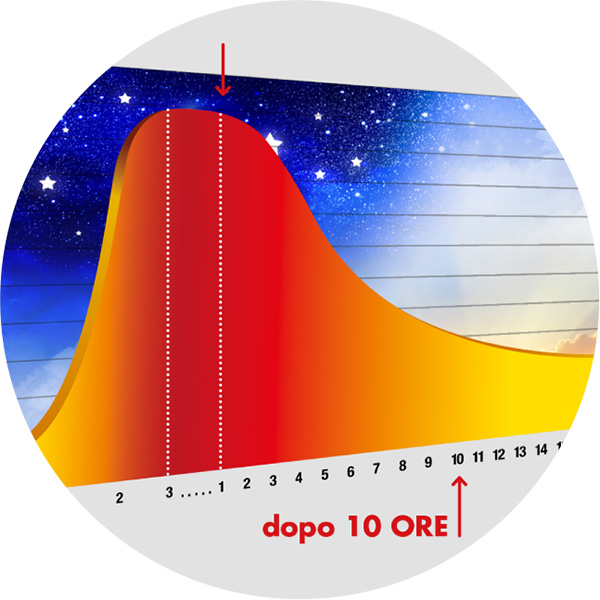 After-Flame technology: longer lasting heat.
This technology is applied to wood-burning stoves and consists in a special, refractory heat accumulator located above the firebox that stores the heat produced by combustion and then slowly yields it by radiation. AfterFlame technology ensures healthy, evenly-distributed heat for up to 10 hours after the fire has gone out.
---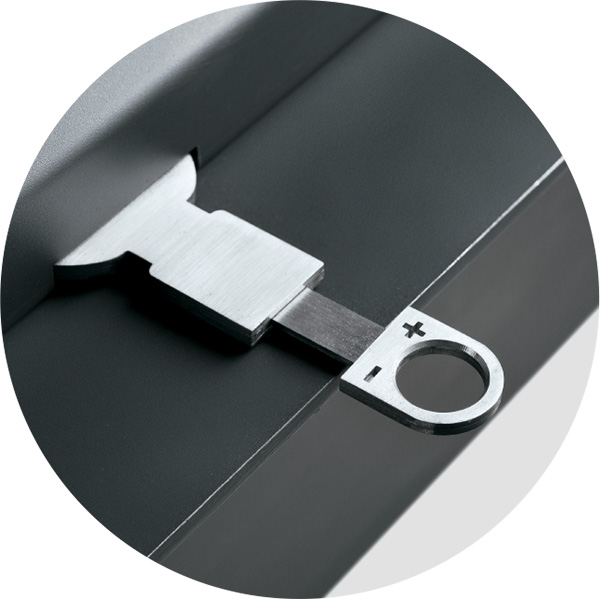 Wood Combustion Control: technology for extremely efficient wood-burning stoves.
An innovative, patented air adjustment system for wood-burning stoves to accurately control the primary and secondary air. It makes igniting the fire easier too.
---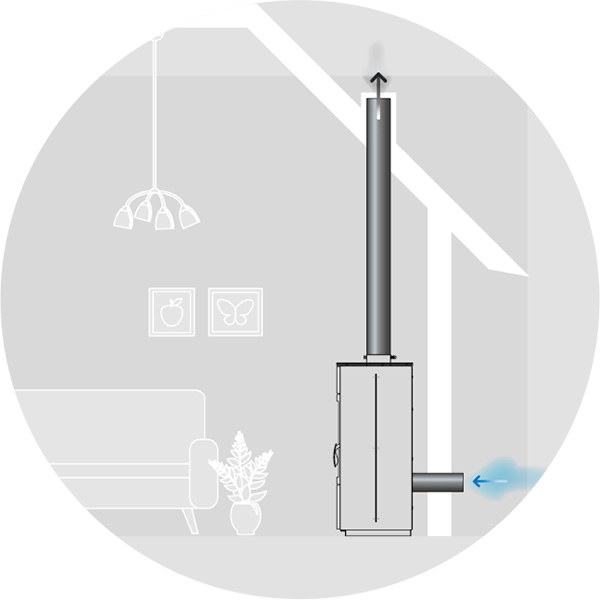 Drawing the combustion air from outdoors: constant climate, healthier indoor air.
Both our pellet and wood-burning stoves can draw their combustion air directly from outdoors. This technology prevents cold air from entering the home. The air needed for combustion will go directly into the stove, preventing the creation of negative pressure. This means greater system efficiency as well as enhanced comfort.
---
Easytech4wood: technology applied to wood.
Thanks to our research, even our wood-burning products – that traditionally work manually – are now provided with electronic technology by which various functions can be automatically activated from:
A – a wall-mount control panel
B – a remote control
C – a smartphone by means of our APP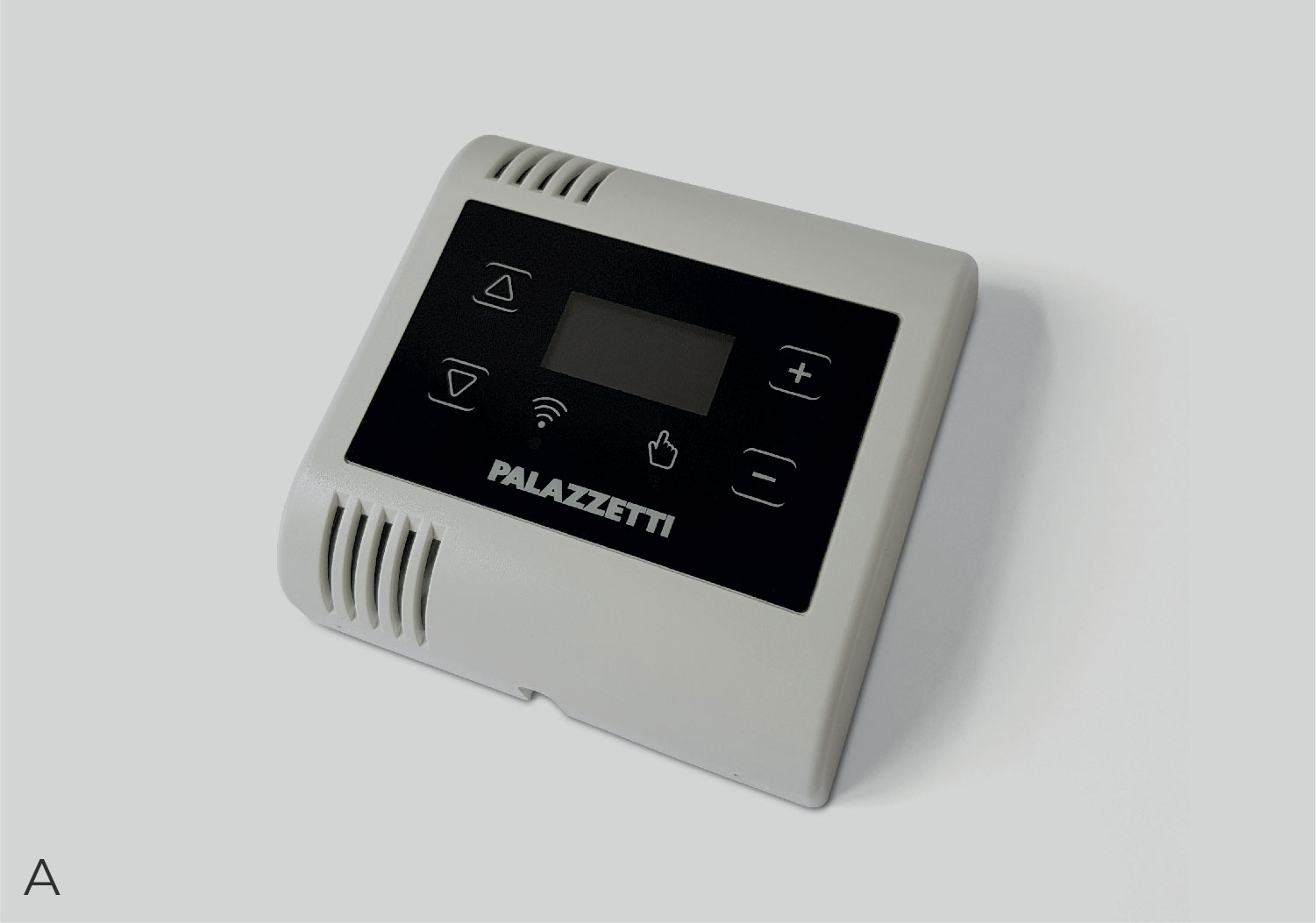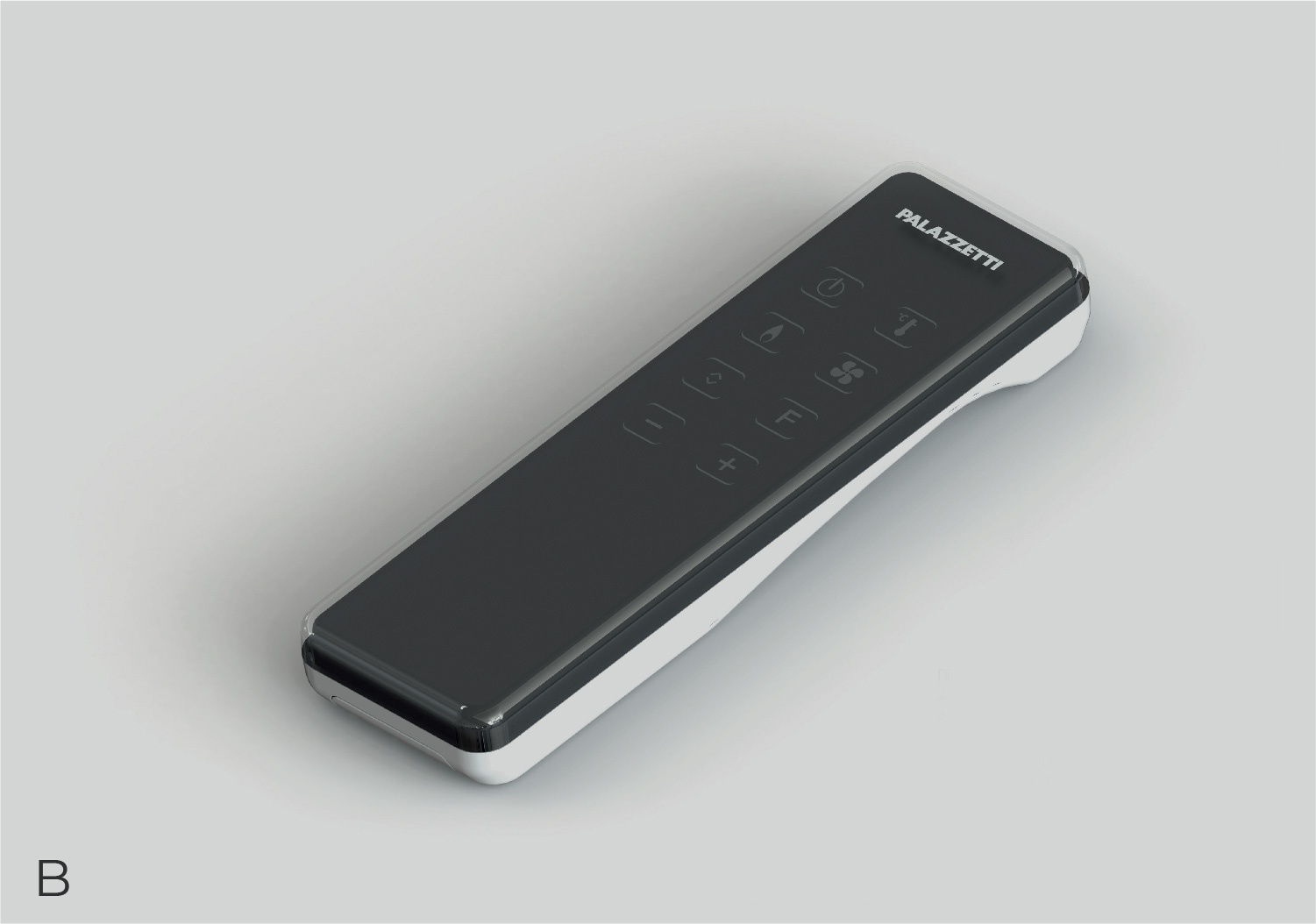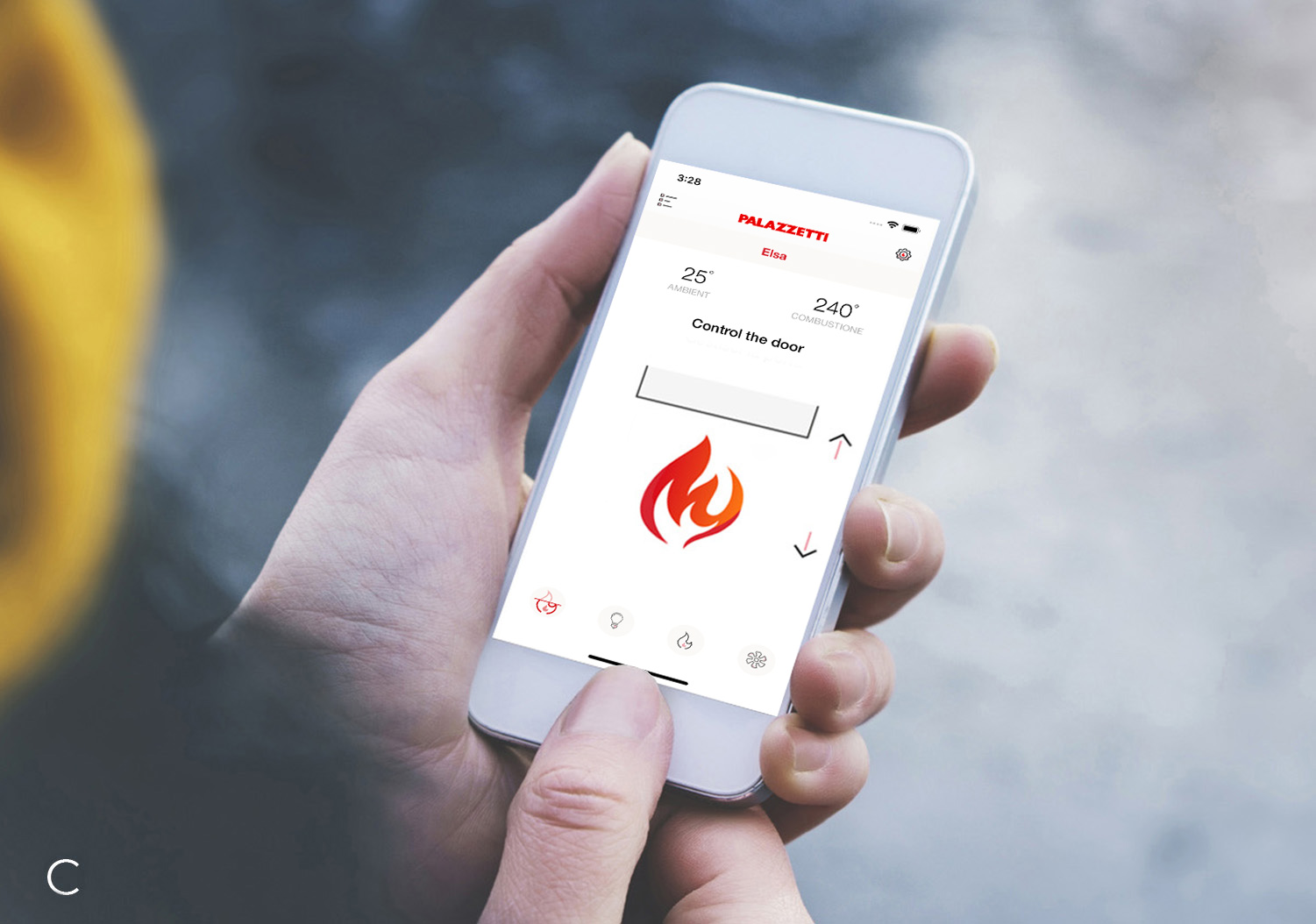 Functions that can be controlled thanks to our ET4W technology

The intensity of the fire by increasing or decreasing the amount of combustion air.
Fan-assisted air distribution by controlling the fan speed.
FZero Speed Fan function: just turn the fan off to enjoy heat diffused by radiation and benefit from total acoustic comfort.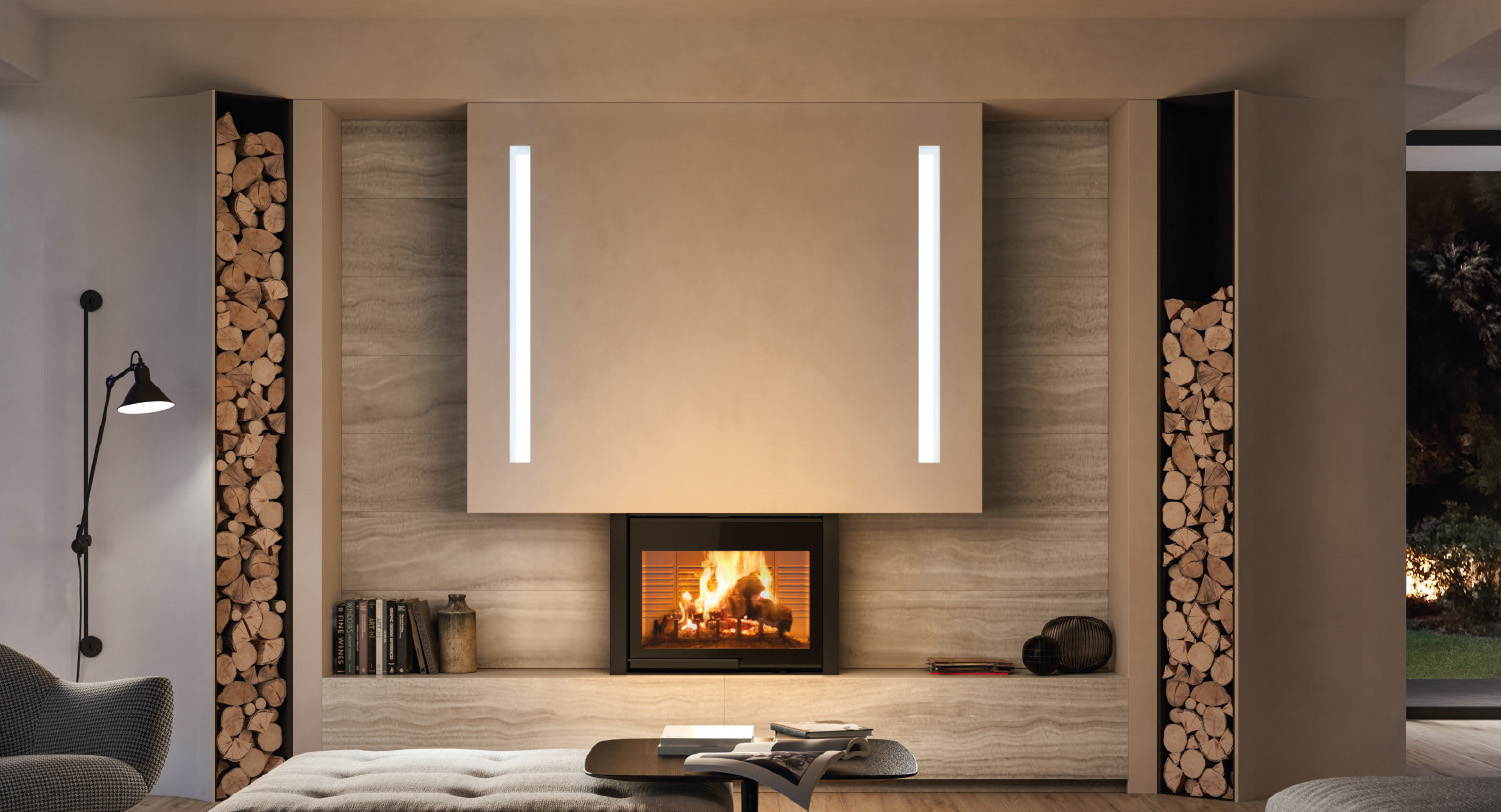 Vent led light on/off function (where applicable).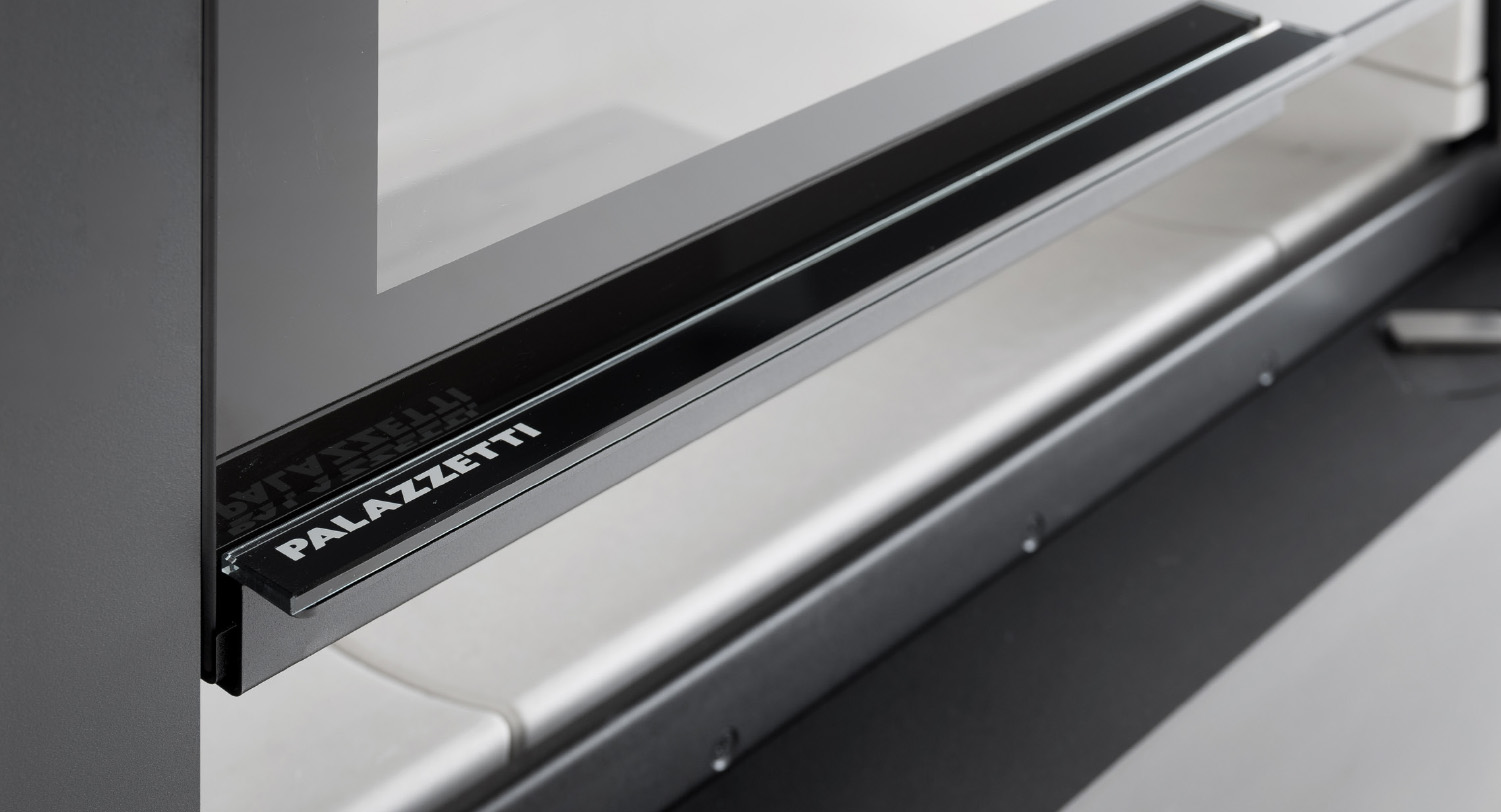 Open/close door.
---
HYDRONIC technologies
New combustion chamber design: we have redesigned the combustion chamber to increase the surface over which the circuit water is in contact with the heat generator, thus improving heat exchange and output.
Sensor in the combustion chamber: designed for high temperatures, the sensor inside the combustion chamber constantly reads the temperature and transmits it to the electronic control unit that manages all the other operating parameters accordingly.
Flue gas tube heat exchanger: In this heat exchanger the combustion flue gases are distributed to various vertical tubes arranged radially around the combustion chamber which remarkably improves heat exchange. It also simplifies maintenance and cleaning because none of the components have to be removed.
Turbulators: these helical-shaped elements inside the tubes slow down flue gas flow, remarkably increasing the exchange of heat with the water in the firebox. A mechanical mobile arm system makes the tubes easy to clean.
Anti-condensation valve: This valve considerably reduces the formation of condensation in the combustion chamber, increases efficiency and reduces the risk of metal parts corroding.
Insulating heat generator cover: a special layer of insulation covers the whole appliance, optimising performances and maximising the heat yielded to the water. This prevents the room the heat generator is installed in from overheating, even when the appliance has been on for a long time at maximum power.