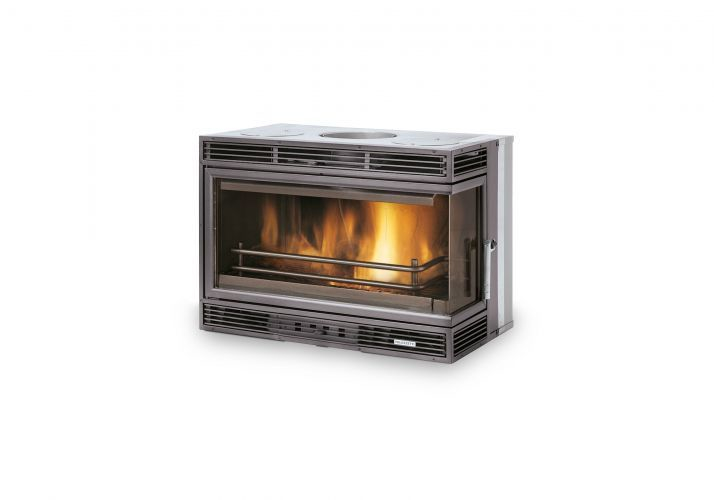 Types of heating
Configurations
Accessories
Flue fitting kit

Consisting of:

1 external pipe with flange 

1 internal pipe with attachment for Ecopalex 76/78/88 and Inserto H66 New /H76 New.

Front surround kit for ecopalex 64 rh/lh

Front surround kit for ecopalex 64 rh/lh

Consisting of: 1 top bracket to fix the surround - 2 side brackets to fix the surround - 1 top surround - 2 side surrounds.

Kit of 2 outlet vents

Consisting of:

? 2 adjustable outlet vents in anodised aluminium with white coloured fitting and corrugated hose;

? 2 grids with gate valves with vents;

? 2 ext. alu. hoses, dim.: 140 L. 1500.
Advantages
Heating by radiation and natural convection

The heat is evenly distributed thanks to a combination of two heating principles: • radiation: 80% of the heat is accumulated within the structure and then progressively yielded to the room. This is healthy heat that doesn't raise ambient dust or flower-dust, keeps air humidity constant and heats the human body in depth. • convection: the remaining 20% of the heat is simultaneously propagated by natural convection.

Dual Combustion System During the combustion cycle, pre-heated oxygen is added into the firebox producing a second blaze that burns any remaining unburned CO and simultaneously releases additional heat and CO2: CO + 1/2 O2 = CO2 + HEAT The benefits are remarkable: optimal heat output, increased savings on consumptions and cleaner exhaust for less pollution.