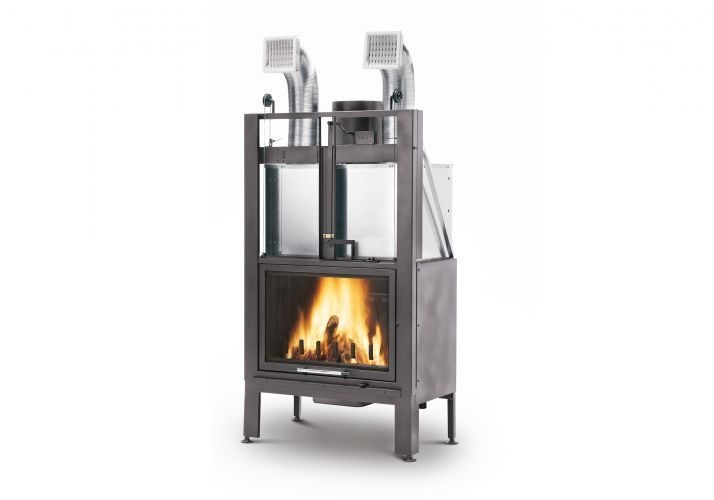 Types of heating
Configurations
Certifications
Accessories
Finishing frame

Black metal finishing frame for plasterboard.

Iron firewood holder

Cast iron firewood holder

Fan kit with built-in digital control unit - 850 m3/h

Fan kit with built-in digital control unit - 850 m3/h

Centrifugal electric fan (80W) with a built-in electronic control unit with automatic or manual fan adjustment. The digital display shows the air temperature: in the automatic mode it adjusts fan speed according to the temperature of the firebox making it possible to convey 850 m3/h of hot air.

Box for wall installation for digital control unit

Box for wall installation for digital control unit

Box for wall installation of the fan kit built-in control unit and of the built-in digital thermoregulator.

Scintilla kit

This device permits automatic ignition of the fireboxes in the Ecomonoblocco range. Ignition can take place by means of a switch that can be governed by a timer (not included), or by phone via GSM by means of an optional actuator.

Kit O2Ring ø25 cm

O2Ring is a device that works without electricity by simply exploiting the natural draught of the firebox; it is composed of active elements that, when they enter in contact with combustion exhaust, start a controlled chemical reaction that neutralises up to an average of 80% particulates and carbon dioxide.

Primary air conveyor kit

Consisting in a special conveyor and in a corrugated extendable pipe, it allows the fireboxes with this feature to take the combustion air directly from outdoors.
Advantages
Heating by radiation and natural convection

The heat is evenly distributed thanks to a combination of two heating principles: • radiation: 80% of the heat is accumulated within the structure and then progressively yielded to the room. This is healthy heat that doesn't raise ambient dust or flower-dust, keeps air humidity constant and heats the human body in depth. • convection: the remaining 20% of the heat is simultaneously propagated by natural convection.

Nei prodotti canalizzabili l'aria calda prodotta dal fuoco viene spinta dal ventilatore nella canalizzazione e raggiunge, quindi, più ambienti della casa, consentendo una distribuzione uniforme del calore. Importante: grazie al diametro maggiorato dei tubi di canalizzazione, e quindi alla più elevata portata di aria calda, aumentano calore e comfort e diminuiscono i tempi per raggiungere la temperatura desiderata.