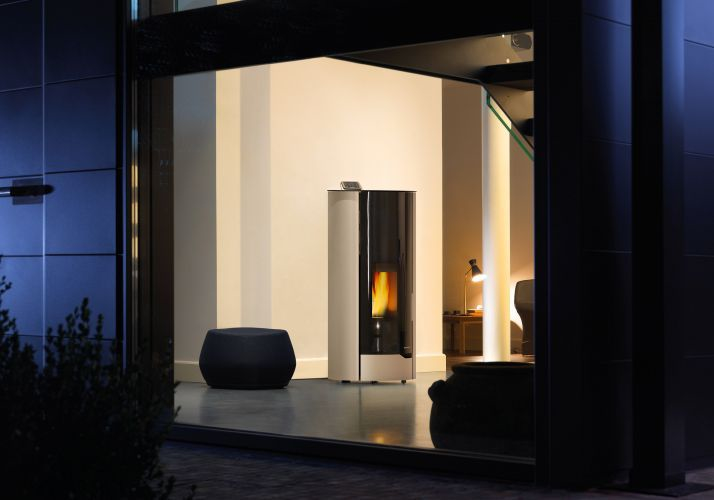 Colours and finishes
Types of heating
Certifications
15a is an austrian ordinance that defines the quality and efficiency requirements of wood and pellet burning products to optimise energy savings. it imposes stricter limits than those set by the european standards

BIMSCHV 2 is german federal immission control ordinances in forces for the reduction of emissions of harmful substances into the atmosphere

In france the flamme verte mark is a guarantee of the quality, efficiency and high energy and environmental performances of wood and pellet fuelled products

The european ecodesign directive, effective in 2022, will provide for more ecocompatible products in terms of polluting emissions, efficiency and performance
Accessories
Connection Box

The Connection Box makes it possible to control Palazzetti pellet-burning appliances by using the Palazzetti App. It is already supplied standard on some models.
 

Palazzetti Cleaning Kit

A complete kit to clean and take care of your Palazzetti pellet stove, made up of:

• 800 Watt ash vacuum cleaner with handle;
• epa filter;
• double, self-extinguishing filter bag cover;
• metal, plastic-coated hose with a set of attachments (round, metal suction pipe, flat suction pipe, removable brush, magnetic accessory for easy heat exchanger tube cleaning);
• specific ceramic glass detergent;
• glass cleaning sponge;
• microfibre cloth to clean the stove''s outer surface;
• flexible pipe cleaner for gas tubes;
• gloves;
• pellet scoop.
Advantages
Pellet feed system that is very accurate in dosing the quantity of fuel burnt

The forced air circulation products are provided with a fan that quickly distributes the hot air produced by combustion throughout the room. Thanks to the electronic management of the control unit it is possible to manage the power and the speed of the fan according to individual needs.

Some ventilated models, allow you to completely exclude the fan function to heat by natural convention only. The result is a completely noiseless stove, ideal during the night or in particular situations where silence is a priority.

External ducting of primary air

For greater comfort and system efficiency; this method prevents cold air from entering the room and creating negative pressure

Connection Box and Palazzetti App

Allows you to manage the main stove operating parameters locally (when used as a remote control) or remotely (when connected to the internet) with just a smartphone and a specific app